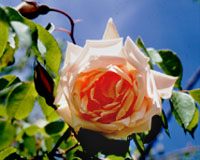 Look to the rose that blows about us-
"Lo, laughing,"
she says,
"Into the world I blow:

At once the silken tassel of my purse

Tear, and its Treasure on the Garden throw."
OMAR KHAYYAM
(11th century)
*
My friend said-
Maybe you're not what you thought you were.
I asked.
And I was waiting for a profound thing.
I like to roll the profound quilt around myself and take a snooze.
Ate a muffin and fell asleep on the bathroom floor
underneath the skylight
and waking up, felt the sun shining like a warm friend
Like a beauty that didn't mind a thing
not a thing at all.