Ever get the feeling that you're being winked at?
Here's how the whole Sun Panel is looking...

***
I wonder who we're talking to. When Mother Teresa said that she treats everyone as Jesus- I thought that was a figure of speech. But what if it's true, that each one is Jesus? What?!

When I would cop an attitude as a kid my Mom would say,
"I don't know who you think you're talking to, young lady!"
No kidding! That's pretty profound. I was asking myself yesterday- why do I paint? Why do I talk? I mean, I write a little in this blog- but I am writing all day long! I keep a word document open everyday and just write stuff. Like the poem about a Turtle in a Tree. Curious? I am too:
There's a turtle in a tree!
Come see! Yelled He.
What? What?! Say We.
How could that be?
Did you say turtle in a tree?
This we gotta see.
By Jove!
It's A….
TURTLE IN A TREE!
How funny!
How absurd!
Even the birds were like,
"Oh my word…"
We were so astounded to see
Her swimming up there merrily…
Turtle in a tree!
Anyway, I thought to myself- maybe stop expressing. There's not really anything there. And inside welled up this enormous force of I WILL! I WILL! Though how absurd that God/You and God/The Bird and God/My Toes... that all that God would require not only a leaf, but a picture of a leaf. That's very silly! David Wolf says, "When in doubt, choose the silliest option." I got good news, and I got bad news, God. The good news is that we are living in a very silly world. The bad news is that we are living in a very silly world. ha ha!
Some Calvin Hobbes from Dirk...
Here's some new awesome hummingbird photos! Introduced to me by Sherri Zampelli, taken by Michael Zampelli.


The most amazing treat today!
I was sitting under the awning out back, just finished my lunch and was staring out. I heard a tiny sound: a

teep

! It wasn't sparrow, and by the little burst of air I knew it was close. And I thought, "Oh! Is it...?" And then

zooooooom

in comes hummingbird for a quick taste of the purple pansies. This is the BEST! And then what did she do? She zoomed right over! Right between my eyes! I could hear the hum of her wings as she lingered there staring. Hi! (I squinted. Does an eye look like a flower?) She was very fast! No she was there to visit. And then she spoke, "

teep

!" and flew around my head. And she's back! More to say!

teep! teep!

She did a fancy swirl around and then flew away. Wooooowwwwww. I had a big goofy grin on my face. And then I wondered, "What did she say?"

"She wants more flowers."

Oh. Of course. More flowers.

No wait... sure it wasn't something more profound?

"Flowers. She'd like some food."

Oh right! Food! I feel quite charmed! I just got bossed around by a miniature shiny being that's like- a flying heart! I painted her last night and she visited me today!
Now I gotta plant some more flowers!


Here's my little girl! Isn't she a cutie pie? I like how she's making eye contact with the frog over her shoulder. (Frogger's visible in a pic below)
And I finished the fish. Doesn't he look phallic?
These women are from a painting by Klimt called

Water Snakes

. It might be a woman with herself, and it might be two women together. Either way- Klimt... he knew a few things. And that's why all the women in Vienna clambered to have him do their portrait.
For instance, he knew this:
You know that story of Danae? Zeus made love to her in a stream of golden light. What a great story. What a great instructional story. What if the womb can contain light? If it can, that's important information. And it would sort of change the anatomical identity of Isis and Nephthys.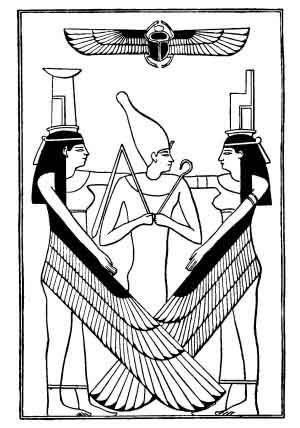 In Indonesia, if you're a woman and Muslim, you probably don't have a clitoris. Or labia. Know why?
THEY CUT THEM OUT.
But that's in Islam. Remember how the Catholic Church used to burn women alive? Oh! Or remember that hundred year thing in Spain where they'd sexually mutilate women from the inside out? And then kill them? For assisting in childbirth? Because that was evil and against God's will? Because women deserved to suffer?
You ever wonder if maybe a woman's pleasure is the key to something? Heads up for that golden light.
Adding a peach tree and a fish...
I'm watching this little robin hop along in the grass. Watching from the window, I don't think he sees me. Or he doesn't care that I'm there. He hops and in the same motion he dips his beak into the dirt and lifts out a worm- it goes down the gullet. Robin. I watch him hop. Robin doesn't know anything about worms. Robin doesn't seem to even be looking for worms. But Robin dips his beak down and there is a worm.
This morning Steve and I sat in the backyard. You can blend cilantro with banana and lemon and water and drink it. Some kind of butterfly zoomed into the hydrangea bush. That's not a butterfly. Yrrrryyyyooooommmm!!!! It zooms past us lightening fast! Split the horizon of air across our eyes! That's a hummingbird! She hovers above for a moment- and she's gone. Well, how did she get here? Where does she go?
Into the blue again... into the silent water
(My God, what have I done?)
I saw her poking about in that hydrangea bush. There's no blooms at all. Maybe she's looking for a nest.